The great debate – Should you budget or break the bank for your Disneyland vacation? Do you want to go all out and live it up on this trip? Or are you content to stick to your frugal ways for your stay?
How about a nice balance of both? Pick and choose what items are most important for your vacation and be thrifty in some places and more free with your money in others!
Let's break it down…Pinch your Pennies or Break the Bank? Or go all out and Go for Broke?
---
Hotel
In Anaheim, there are hundreds of area hotels and motels in every price range to choose from for your Disneyland stay. Some are literally a stoplight away, directly across the street from the entrance esplanade. Take a look at Disney's recommended "Good Neighbor" hotels for reasonable suggestions. Consider Priceline if you'd like a fancier hotel at a cheaper rate. You won't be able to choose your location but you can choose your price and the star-rating. Don't forget to ask for a discount or if the hotel accepts AAA (or another discount card).
Pinch Your Pennies – Cheap motels can be found all over Anaheim, some within walking distance of Disneyland. These are no-frills, un-themed basic motels with doors that face outside. Some of these motels offer a do-it-yourself breakfast. Most have very basic swimming pools. Some motels are better than others; some are quite nice for the price and others are frankly, dumpy. Read Yelp or my reviews for advice).
Break the Bank – Some of the more pricey hotels have Disney themed rooms or special features, like bunk-beds for the kids or a kitchenette. Pools are usually larger and offer more amenities. Some nicer hotels offer breakfast included in the price, but most do not. Some of these hotels also offer complimentary shuttle service to the Parks, but again many do not (or charge an additional fee).
As an alternative to a hotel, there are local vacation homes available. Some have elaborate theming and play spaces for children. This is particularly nice if you are traveling with a large group and want to stay all together.
The hotels of the Disneyland Resort are completely themed and immerse you in that "Disney Magic". Pools may have bar and food service and offer life vests and swim diapers for little ones. The Resort hotels are all within close walking distance to the Park entrances. Grand Californian Resort and Spa has an exclusive entrance for Resort guests (with valid Park ticket) to enter Disney California Adventure Park. Disneyland Resort guests can also take advantage of Extra Magic Hour that allows them entrance to the Park one hour earlier (according to schedule).
For an additional fee, you can add Club-level service to your Resort stay. The room will be exactly the same however you'll receive access to the Club lounge which includes continental breakfast, sodas and snacks throughout the day and a wine and cheese reception at night. You'll even receive special treats before bed! We've stayed on the Club-level floor at the Paradise Pier and it was lovely to pick up snacks and sodas before going to the pool or into the Park and be greeted with chocolate-dipped Mickey-shaped rice cereal treats on our bed at night!
Go for Broke – Book a beautiful suite or signature suite at either the Grand Californian Resort and Spa or the Disneyland Hotel. At the Grand Californian, suites are themed in a rustic but elegant art-deco decor. The Disneyland Hotel has amazing signature suites that are beautifully themed to the Park.
Rent a poolside cabana for the day at one of the Disneyland Resort hotels. Last summer while swimming in the Disneyland Hotel pool, we *ahem* saw Adam Sandler coming in and out of his poolside cabana!
---
Transportation
Pinch Your Pennies – If you plan to be only visiting the Disneyland Resort during your California stay, there is no need to rent a vehicle. The Disneyland Resort Express bus (affiliate link) will take you from the airport to the Anaheim area for a fee. Choose a motel within walking distance of the Parks and simply let your feet be your guide. If your motel is a bit too far to walk, The Anaheim Resort Transportation (ART) runs to many of the local motels and other area amusement parks for a small fee. There aren't any grocery stores within close walking distance of the Resort (only convenience stores) so you may need to take a bus or cab to get to the nearest Target.
Break the Bank – If your trip includes stops in Long Beach, Orange County or San Diego renting a car is the best way. You can also take the train for a unique experience. It can be very convenient to have a rental car with you to drive yourself from the airport to hotel, for shopping and for travel within the area. Parking at the Disneyland Resort is $15.00 per day. Your hotel may have per night fees for parking as well.
---
Time of Year
Pinch Your Pennies – When you're budgeting, Disneyland's "Value Season" is your bread and butter. You will choose an off-peak time period (not over a holiday, 3-day weekend or school break). You will go to the Parks mid-week, never on a weekend for the best motel prices. Unfortunately Disney often schedules ride refurbishments or closures during Value Season so there may be a chance that you'll miss riding your favorite or being able to see fireworks. Park hours are often shorter during Value Season.
Break the Bank – A visit during Peak Season takes patience and a bit more money. Prices skyrocket at Disneyland over the holidays, in particular the weeks of Thanksgiving, Christmas and New Year's Eve. However the Parks are dressed to the nines in holiday fashion and there are special events planned, like ice skating in Downtown Disney at Olaf's Frozen Ice Rink (additional fee). Ride refurbishments are at a minimum during Peak Season and hours are usually longer.
Go for Broke – The holiday season is joyous! Enjoy an elegant Thanksgiving or Christmas dinner at one of the Resort hotel restaurants and an over-the-top New Year's Eve Gala at Napa Rose with dinner and dancing.
---
Tickets 
Pinch Your Pennies– Plan to spend one day in each Park, minimum. Purchase a two-day base pass, one Park each day. Just know in advance that you won't be able to see and do everything in two Parks in two days! Check with your AAA office, Human Resources department, Costco or local grocery stores for possible discounted passes.
Break the Bank – Purchase a 5-day Park Hopper Pass. The entrances to the Disneyland Park and Disney California Adventure Park face each other across a short esplanade, which makes Park Hopping possible within minutes! If you plan on staying longer than five days, consider investing in an Annual Pass, which will also give you discounts on select dining and merchandising.
Book a Guided Tour and receive special access and behind-the-scenes peeks. Some tours offer special ride access or reserved viewing for certain shows.
Go for Broke – Request VIP Tour Services for your days in the Parks. You'll have the assistance of a dedicated guide, reserved viewing/seating and more (all for an hourly rate).
---
Dining
Pinch Your Pennies – Pack your own meals and snacks in a soft-sided cooler with a chill pack inside. Bring bottled water (or request ice water for free from any walk-up dining location). If you choose to dine inside the Park, choose meals that are large enough to share. We often purchase two different platters, request extra plates and share between us all. We pad out the meal with snacks (like cheese sticks or carrots) that we bring from home.
Break the Bank – Make Advanced Dining Reservations (ADR) for some of the elegant dining experiences in the Park and Resort Hotels. At Blue Bayou Restaurant (Disneyland) guests dine waterside inside the Pirates of the Caribbean ride! Carthay Circle Restaurant (Disney California Adventure Park) offers alcoholic beverages and fine dining inside their bar/restaurant. Napa Rose (Grand Californian Resort and Spa) offers award-winning cuisine in an upscale setting. Enjoy breakfast or dinner at Steakhouse 55 (Disneyland Hotel) with a specialty in steaks and chops.
Snacks are sold throughout the Parks, many with adorable themes like these cute Olaf marshmallow treats or an enormous candied apple. Some of these premium snacks may set you back $5-10 each
.
Book a World of Color dining package at one of three participating Disney California Adventure Park restaurants and received a three-course prix-fixe meal and a voucher for reserved space at that night's viewing of World of Color. Disneyland has also introduced a similar promotion with Guests receiving a reserved space at Fantasmic! with the purchase of a meal at certain locations (starting mid-December 2014).
Character meals are one of the most fun family dining experiences you'll have! Enjoy a bounty of food and get one-on-one photo ops with the characters as they visit your table. For breakfast only choose Surf's Up! Breakfast with Mickey and Friends at the PCH Grill (Paradise Pier Hotel), Chip n' Dale Critter Breakfast at Storyteller's Cafe (Grand Californian Resort and Spa) or Minnie & Friends – Breakfast in the Park at the Plaza Inn (Disneyland Park).  At Ariel's Grotto Restaurant (Disney California Adventure Park) you can pick from breakfast or lunch and meet the Princesses throughout your meal. Goofy's Kitchen (Disneyland Hotel) offers a rollicking breakfast or dinner, buffet-style.
Go for Broke – Make Advanced Dining Reservations for the Fantasmic! dessert show. You'll receive premium viewing space for the show and also receive a sweet dessert platter.
---
Downtown Disney
Like a long outdoor mall, Downtown Disney has the Disneyland Hotel at one end and the esplanade to the two Parks at the other. In between are various restaurants, shops, concert venues, Monorail station (with direct access to Disneyland Park) and a side entrance to Disney's Grand Californian Resort and Spa.
Pinch Your Pennies – Take in the ambiance and one of the free concerts that are hosted on weekend evenings. Play a bit at the Lego Store. Buy a sweet treat to share from Marceline's Confectionary or a bag of kettle corn from a kiosk. After a bit of window shopping, hop on the Monorail and take a ride back into Disneyland Park (valid Park ticket required).
Break the Bank – Young guests (ages 3-15) can visit Anna & Elsa's Boutique for a frosty make-over. Moms can get their own make-up fix at Sephora. Make your own custom souvenir at Build-a-Bear Workshop or RideMakerz. Take in a concert at the House of Blues. Dine at Ralph Brennan's Jazz Kitchen or Catal Restaurant. I love a stop inside WonderGround Gallery for a peek at unique Disney-inspired artwork.
---
PhotoPass
All throughout the Parks, Disney PhotoPass photographers offer their services to take photos of your family. They will use their camera and give you a scannable card that you'll present to other Disney PhotoPass photographers. Once home, you can view and purchase images online from your trip!
Pinch Your Pennies – Hand your own camera to the Disney PhotoPass photographers and they will happily snap away…No charge!
Break the Bank – Preorder Disney PhotoPass+ before your trip. Disney-themed enhancements can be added to your photos for whimsy. Once you return home you can check out your PhotoPass shots online and purchase photo gifts and books with the pictures from your magical vacation!
---
Souvenirs
Souvenirs can be found throughout the Parks and in Downtown Disney in a wide range of costs for any budget (or lack of budget!)
Pinch Your Pennies – For a classic souvenir that respects your budget try a pair of embroidered Mouse Ears! Pressed pennies are well-loved and you can display them in a shadow box as a trip memento. I like something practical that my kids can use trip after trip or can wear at home, like my son's Pluto hat with the really long sun-shading brim. He wore this hat every visit to the Parks for years!
Or skip the souvenier stand altogether and buy things ahead of time. Disney themed shirts can be had from the Disney Store (affiliate link) for a great price. Purchase a cheap blank notebook and a pack of inexpensive stickers for character autographs (don't forget the pen!) Buy glow sticks at the 99 cent store and present them to the kids in the evening. Bring your pre-bought goodies like lollipops, little stuffed animals or inexpensive trinkets to hand out to kids at the end of the day so they don't have to shuffle past the souvenir stands empty handed.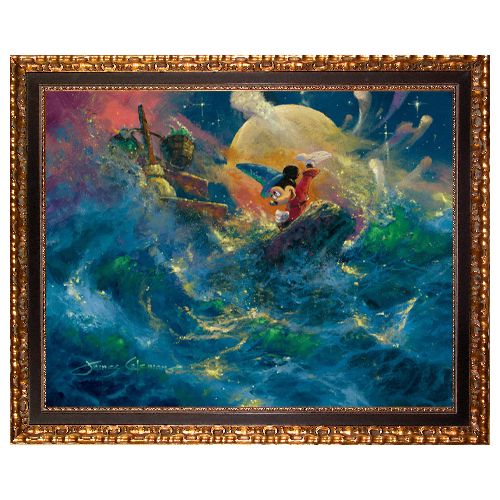 Break the Bank – Take home a memento like an animation cell, giclee or Dooney & Bourke handbag (affiliate links) and you'll have a timeless treasure.
If staying at a Disneyland Resort hotel, you can request that your purchases be sent directly to your hotel room. Handy if you're in the Parks and don't want to lug your souvenirs around.
---
Princess (or Prince) for a Day
Pinch Your Pennies– Does your child have a Disney-themed costume they love to wear? If your child is under the age of 10, they are permitted to wear costumes in the Park. So feel free to let your little Tinker Bell wear her pixie dress or your tiny Captain Hook wear his pirate hat! Feel free to create cute hairstyles, toss a bit of glitter around and wear something fun and sparkly! Just make sure they are wearing comfy shoes; dress up shoes are simply not appropriate for walking in all day.
Break the Bank – Book your prince or princess (age 3-12 years) a date in the Bibbidy Bobbity Boutique for a royal treatment. Gentleman become knights, complete with suave hairstyle and a shield and sword. Little ladies have more of a variety to choose from including a few treatments that will doll her up from the top of her glittery head to her glass-slippered toe!
Go for Broke – With the Castle Package (starting at just under $200), newly crowned princesses will be escorted in a mini-processional to skip the line at the Fantasy Faire and go directly in to meet with the Disney princesses inside.
---
Celebrations
Pinch Your Pennies – Are you celebrating something, anything at the Parks during your visit? Visit Guest Relations inside either Park to request your complimentary birthday, anniversary or first visit button.
Break the Bank – Celebrate big days in style with the help of Disney specialists. Whether it be a Quinceanera, FairyTale Wedding or Vow renewal or anniversary you can have the celebration of your dreams! Disney Floral & Gifts can help with delivery of flowers, gift baskets and presents to your Resort room. You can also order special cakes to be delivered for celebrations at your Resort dinner.
---
Let me know how you like to vacation – Do you pinch your pennies or break the bank? Let me know in the comments below!
If you would like to receive future updates when posts are listed, please sign up for my newsletter!