For anyone visiting Disneyland for the very first time, this is what I'd call the definitive list of "must-do" items inside Disneyland Park. After these things, everything else is just gravy!
As a first time Disneyland visitor, you'll want to get the best feel of what makes the Park "tick" and where its heartbeat lies. These attractions are classic Disney and will completely immerse you in the magic! It's not everything of course because you'd need a lifetime to experience it all but these are the essentials that are do-able for a visitor's first Disneyland day!
---
Main Street Vehicles – No thrill rides here, just a good ol' fashioned ride down Main Street U.S.A. to get you in the mood of the Park . Hop aboard a horse-drawn car, jitney, fire engine or omnibus. Our travels have always included a chat with the drivers, who are knowledgeable about Disneyland facts.
The Mad Hatter – It's the place to find a hat for every occasion! What better way to show your #DisneySide than with a pair of Mouse Ears that reflects your personality? We bought my son's Pluto hat here which he's continued to wear on nearly ever Disneyland trip for the past 6 years.
Silhouette Studio – Get into the vintage Victorian vibe by having the artists hand cut your silhouette out of paper for the perfect souvenir. I have my silhouette from when I was about four years old, curly ponytail and all!
River Belle Terrace – Skip the Starbucks and head straight here for the best breakfast in the Park. The adorable Mickey Mouse pancake will start your day off right. This restaurant is a 1955 original and has one of the prettiest views of the Rivers of America.
Disneyland Monorail – Get the aerial lay-of-the-Land and take the 2.5 mile Monorail route. Jump on in Tomorrowland, pass through Disney's California Adventure and hop off and on at Downtown Disney, if you wish (you'll need a valid ticket to get back inside the Park!)
Autopia – Though you're only driving about 7 miles per hour, you'll feel the freedom of the open road! This attraction dates back to opening day in 1955, before there was a center guide rail keeping your car on the road. I love the little bridges, lush landscaping and "off road" section. Being tall enough to drive your own Autopia vehicle is a rite of passage!
Big Thunder Mountain Railroad – When this first opened, my parents literally dragged my brother and I to get on the ride! We were scared of what looked like a runaway train. Of course, we've come to love the "Wildest Ride in the Wilderness" and new additions to the attraction make it better than ever. It's my favorite Disneyland Mountain!
Carnation Cafe – Serving up classic American comfort food, this is where Walt used to eat. In fact they still serve his favorite chili. We sat outside on the patio and ate dinner here one evening and it was relaxing and sweet under the striped umbrellas.
Disneyland Railroad – Hop aboard on Main Street U.S.A. and take the grand circle tour around the Park, a total of 1.2 miles. Not to be missed is Primeval World, a large diorama that takes you back to the prehistoric times and features dinosaurs and volcanoes! (images from Vivid Editions on Etsy)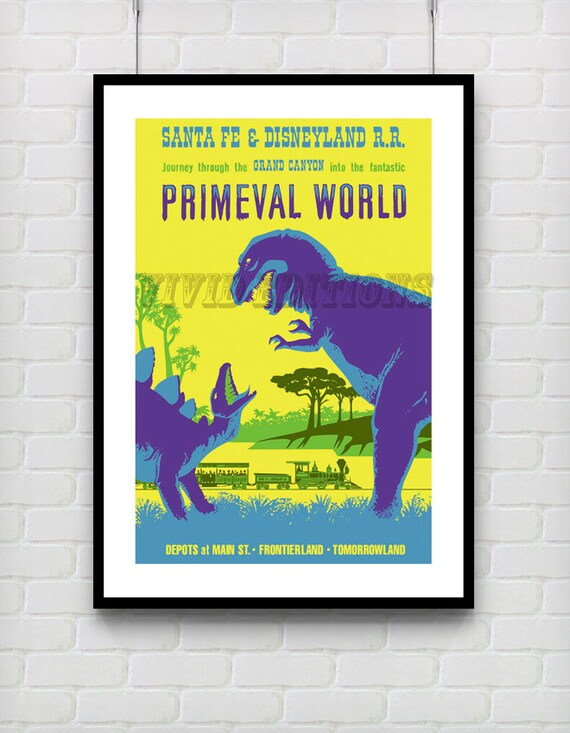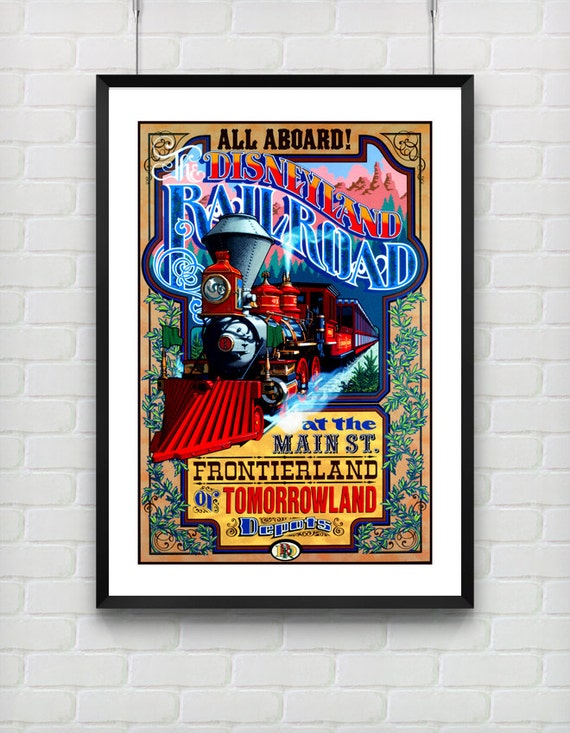 The Enchanted Tiki Room – Let's all sing like the birdies sing! 200+ Audio-animatronics perform before your eyes in this tropical paradise. The show is lively, the music is charming and you may find yourself singing along (go ahead, everyone else will be singing too!). And you can have Dole Whips inside from the Tiki Juice Bar…enough said!
Dumbo – If an elephant can fly, then what can YOU do? Music played on an authentic fairground organ built in 1915 accompanies your flight! Little ones direct the flight with a knob that makes Dumbo rise and dip in the air.
French Market Restaurant – The New Orleans Square feeling is alive here! After choosing your meal in the buffet line, take a seat outside to enjoy the Dixieland Band. The meatloaf and mashed potatoes are divine and my son can't miss the corn chowder in a bread bowl. It's my favorite dining spot. Treat yourself to Mickey Mouse shaped beignets and a mint julep from the Mint Julep Bar for dessert!
"it's a small world" –  If pressured to choose a favorite attraction, I'd have to say that this one is it. It's happy and colorful and carries a message that simply uplifts your heart. Curmudgeons give this one a bad rap because, well the song by the Sherman brothers is slightly catchy. I love the addition of classic Disney characters throughout the attraction, they are fun to spot throughout.
Golden Horseshoe – Pull up a sundae with the works and enjoy a silly show in what is one of the original buildings from 1955. I still miss Billy Hill & the Hillbillies, who headlined here for years but the Laughing Stock Co. gang will give you a giggle. It's a nice place to take an ice cream break and imagine when Walt Disney himself was sitting in the upper right reserved box.
Haunted Mansion – I was in my 20s before I actually rode through this attraction with my eyes open!! Appropriately spooky, the Haunted Mansion has just the right amount of fright and fun (but you'll only catch the humor if you have your eyes open!)
Storybook Land Canal Boats – At times overlooked because of the gentle, slow pace this tour of fairy tale lands has always been one of my favorites. Your guided boat with glide past the Seven Dwarves cottage, the royal city of Agrabah from Aladdin, King Triton's underwater oasis from The Little Mermaid and newly added, the land of Arendelle from Frozen.
Sleeping Beauty Castle Walkthrough – The story behind the iconic castle comes to life with three-dimensional displays. The attraction is beautiful done but it's awesome enough on its own just to be inside the actual castle!
Jungle Cruise – Another 1955 original, this one evolved over the years from a serious African jungle tour into a slightly silly romp through the rain forest, complete with jokes from the skippers. Each skipper puts their own spin on the tour along with incorporating classic gags from year's past.
Mad Tea Party – Go ahead, spin it if you dare! Though motion sickness prevents me from ever stepping foot in a teacup again, this is still one my favorite areas in the entire Park. From the festive lanterns hanging over head to the bright colors and patterns of the twirling teacups, this is one bright spot in Disneyland that can't be missed!
Peter Pan's Flight – Arguably the best Disneyland dark ride, this one is getting a facelift in anticipation of Disneyland's Diamond Celebration. Hope that the beautiful details remain, like flying over a miniature London and tiny Neverland with twinkling lights above and below.
Mark Twain Riverboat – The tour will take you around the Rivers of America, past Pirate's Lair on Tom Sawyer's Island where you can spot frontier fun along the way. The ride features a narration by an actor reading as the author Mark Twain, whom this paddlewheel steam engine riverboat is named after.
Pirates of the Caribbean – Truly one of the best amusement park rides, the detail and special effects are incredible. New additions based on the movies have been added to enhance the story line. Floating through the foggy battle scene, you will feel completely transported…it gives me goosebumps every time!
Plaza Inn -Walk by and it will be hard to resist the urge to go in and order yourself a big plate of fried chicken! Perfectly crispy, this is a large dish that we share. The ornate Victorian designs inside, especially the beautiful stained-glass ceiling are best appreciated in the daytime. Breakfast is also served here, as the fun buffet, Minnie & Friends – Breakfast in the Park.
Fireworks – Okay, so you've seen fireworks before. But if you haven't seen them at Disneyland before, this is not to be missed! Over the years we've watched the show in the sky from where ever we were in the Park. I've even sat outside the Park on the esplanade to watch. But absolutely nothing beats watching them from the center of Main Street. I cried, seriously, it's the perfect way to close out a Disney day!
---
Oh, it's so hard to narrow it down to just a few when there are so many spectacular attractions at Disneyland!
Did I miss including your favorites? Tell me in the comments what rides and attractions are "can't miss" in your book!